Sand Helper Electric Beach Wheelchair
Learn more about the best beach going powerchair
Meet the Sand Helper Powerchair, a mobility solution to taking long strolls along the beach at your luxury. Don't miss out on perfectly good beach weather. Glide across the beach and catch some sun with the ease of a powerchair. It's easy to maneuver along sandy and wet terrain without the risk of getting stuck. Learn more about the Sand Helper beach wheelchair.
Frequently Asked Questions
How long can I rent the Sand Helper electric beach wheelchair?
There is no limit to how long you can rent our beach wheelchairs, however we do have a minimum 3-day rental. Ask us about discounts for rentals longer than a week.
How long do the batteries last?
The Sand Helper holds two batteries and runs off of one of them at a time. In total, on a single charge, the Sand Helper will go approximately 10 miles, depending on type of usage. Turning on hard surfaces requires the most energy. These batteries are removable and rechargeable. Just carry them inside and plug into the wall overnight. Chargers are provided with the rental.
How do I charge the Sand Helper?
The Sand Helper has two 12 lb removable (with key) batteries. At night, you can leave the wheelchair in a safe place and you or a friend can carry these batteries inside to charge overnight. We provide the chargers, which are just like a laptop charger, and they plug right into a 110V wall outlet.
Where do I store the Sand Helper during my multi-day rental period?
Sometimes the Sand Helper can be kept in the lobby of your hotel if it is large enough, and other times we will find a safe place for it to stay outside. Because of the large sand tires, you will not be able to ride it all the way up into your apartment/condo/hotel room. Take the key with you to prevent theft. We recommend also bringing the batteries inside overnight if possible.
How fast does the Sand Helper go?
About 4mph, which is an average walking pace.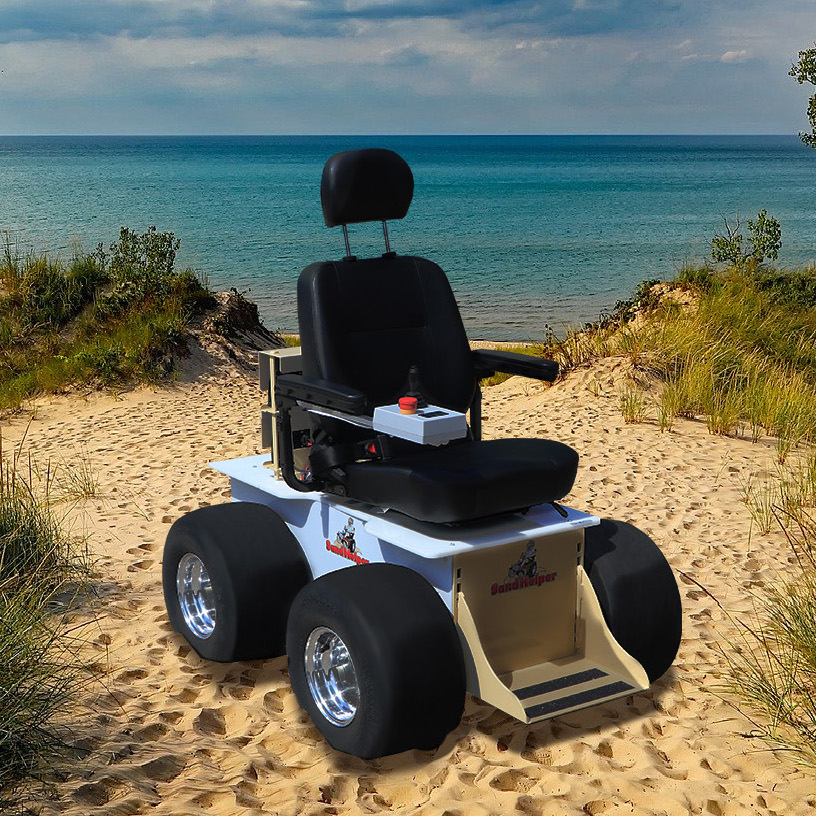 SPECIFICATIONS:
Width: 36.5" wide,
Length: 46" long (with footplate removed), 52" long (with footplate)
Height: 37" tall to the highest point on the seat when it is folded forward
Weight Capacity: 400 lbs Cap.

RENTAL PRICES:
| | | | |
| --- | --- | --- | --- |
| 1 Day | 2 Days | 3 Days | 4-7 Days |
| $125 | $250 | $360 | $450 |